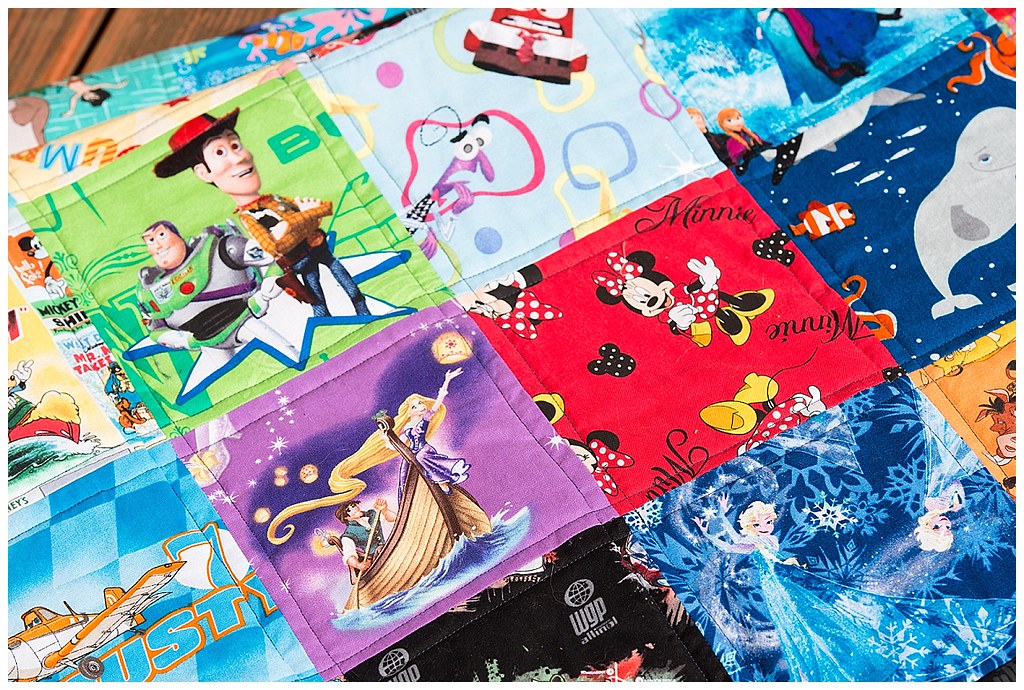 this quilt is pretty much happiness all summed up in rainbows, sunshine, and disney.
while the pattern and layout was simple as dirt, the end result was more than i could have imagined.
this quilt was over a year in the making - from planning the idea to fabric shopping and then wrapping up with the end result. i have given andrew pillow cases and pajama pants a few times in the past, and after making his mom a
triangle quilt
in december, i knew i had to for sure make him something just as great.
andrew's quilt is a little more "in your face" disney, and just as much fun to hunt for the fabric as it was to put it all together. i had a good chunk in my stash already (toy story, as you could probably guess) but fabric was also hunted on trips to idaho by my parents as well as when my mom and i went in november to wedding dress shop with aileen. since frozen is andrew's new love, there is plenty of that scattered throughout as well.
while my goal was for the quilt to be all disney animation type fabrics, i had to include a little nod to his high school musical days. this neon print was the perfect subtle hint without having zac efron's face staring at me. that might have been a bit much. haha
side note: i love when random little mishaps happen... like half of snow white's face being jack skellington.
the more i look at these pictures again, the more i want one for me. but that would mean more fussy cut squares. hmmmm...
i love the back of this quilt almost as much as i love the front. i wanted it to be flannel, because it just feels oh so wonderful, and i remembered this olaf flannel i had used in the past. i broke it up with some of the tones that were hinted in the print to make it a little less in your face olaf, and it turned out to be just as fun and unique as the other side.
hey there, olaf.
the following ones are from the actual opening of the gift, which i love to try and document when i can because it gives me warm fuzzies each time i look at the pictures from it. with our "benny and the jets" crew, we usually go out to dinner for each of our birthdays (the first round we all went to chevy's and got a sombrero) and so since andrew has hung out with us time and time again, we took him out to his choice of applebee's on a friday night. so naturally, these photos are taken in a parking lot at about 9 or 10pm... that's how we roll.
that face... all the warm fuzzies. every time.
yes, there are princesses in this quilt, but the colors are subtle enough to blend them in... even with the few pink blocks thrown in as well. ha.
when i set out to create an "i-spy" disney quilt, this is exactly how i hoped and dreamed it would turn out. though, i found myself in joann's last weekend having to remind myself that i didn't need to purchase any moana fabric, because andrew's quilt was done. funny what a year of fabric hunting mentality will do to you!